In  2007, the "Belated Thank You to Merchant Mariners of World War II" bill was introduced to Congress. The purpose of the bill was to acknowledge the enormous contribution and extraordinary sacrifices of merchant mariners to the war effort. Despite accumulating over a hundred cosigners, the bill died. Re-introduced in 2010, the bill again languished.  We thought it was beyond resuscitation but a few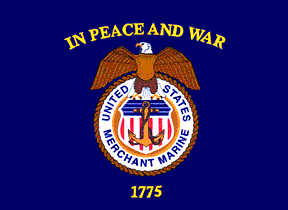 years later, another bill (HR 563) "Honoring Our World War II Merchant Mariner Act of 2015" was introduced. There are reasons for the disregard of this long overdue tribute, none of them good. As proposed, the bill would have compensated merchant mariners who served in World War II with a $1000/month stipend. Perhaps at one time, that might have seemed a significant allocation of money in toto, but these veterans are of a certain age. Fewer and fewer are here to receive the benefit.
The latest and sadly perhaps the last legislative efforts to honor the few remaining Merchant Mariners of World War II are HR 5879, the World War II Merchant Marine Congressional Gold Medal Act of 2018, sponsored by Congressman John Garamendi of California and S2127, the Merchant Mariners of World War II Congressional Gold Medal Act of 2017, sponsored by Senator Lisa Murkowski of Alaska.
Please contact your congressman to encourage support for this bill while there is still time.
Support for Merchant Marine Crosses Party Lines
The 18th-century British writer Samuel Johnson famously wrote "No man will be a sailor who has contrivance enough to get himself into jail; for being in a ship is being in a jail, with the chance of being drowned." Johnson's experiences at sea were few and mined primarily for metaphor. There is access to fresh air on a ship and the company is often excellent.  But Johnson was right that going to sea is never without risk. However the merchant mariners of World War II had more than the routine plagues of hurricanes, typhoons, rogue waves and pirates to evade while being shot at, bombed, torpedoed and sunk. As has been asserted by Presidents of such differing politics as Franklin Roosevelt and Ronald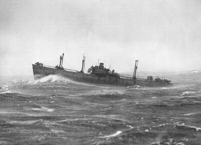 Reagan, World War II could not have been won without the Merchant Marine. As Congress endlessly protests its support for veterans, its inattention to these veterans is beyond cynical. It's unconscionable.
Like the daughters and sons, granddaughters and grandsons, nieces and nephews of other merchant mariners, we are proud of our father and grandfather and great-uncles. Apparently for the veterans left, our pride and the gratitude of those relatively few familiar with the role of merchant mariners in World War II will have to suffice. Had the compensation been granted, it would have been small – too little and too late. Now for most of these men, it is simply too late.