The American Practical Navigator ("Bowditch")
Years ago a successful candidate for the Master Unlimited Oceans credential and his wife named their new-born son Nathaniel as homage to Nathaniel Bowditch, author of The American Practical Navigator and the knowledge whisperer long used by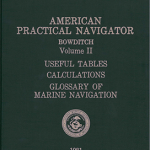 people taking US Coast Guard exams. Nathaniel is now over 30 years of age yet the 1981 edition of Volume II of "Bowditch" still sustains candidates. There are newer editions of the American Practical Navigator but none as useful as the 1981 Volume II. For years the book was available only in dusty old bookstores or via online sellers. More recently reproductions could be found through nautical bookstores. However now the book can be accessed directly from the National Maritime Center.
More Examination References
In addition to Bowditch, NMC has clean downloadable copies of the following references found in the examination room:
What's Not Available
The charts used for the Deck Examinations (Chesapeake Bay – 12221TR, Long Island Sound – 12354TR, Block Island Sound – 13205TR) are not available online nor are the Illustration Books for the Deck and Engine Exams. Nonetheless, as we'll show in a subsequent post, the amount of information found in the books that are there is staggering.