Rules of the Road (Week A)– ONLINE via Zoom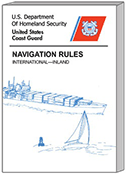 Rules of the Road Course (CRAWNS-431) is a 5-day course covering both the International Regulations for Preventing Collisions at Sea (COLREGS) and the Inland Navigation Rules.
Per the National Maritime Center's Course Approval:
Any applicant who has successfully completed your Rules of the Road (CRAWNS-431) course with a passing grade of at least 90% will EITHER satisfy the Rules of the Road Examination requirements for original issuance or renewal of any deck credential up to Master 200 Gross Registered Tons, Master or Mate of Fishing Vessels, and Apprentice Mate (Steersman) if presented within one year of the completion of training; OR receive 8 days sea service credit towards any deck license up to Master 200 gross register tons, or Master or Mate of Uninspected Fishing Industry Vessels. Per 46 CFR 10.404(a)(2), this sea service may not be used to satisfy any recency requirements.
This same course, when taken by active duty USCG personnel:
. . . is equivalent to the examination module used by the NMC to evaluate applicants for original     issue Third Mate, Oceans and is acceptable for use in training and evaluating USCG Deck Watch Officer personnel. This course is not approved for qualifying an applicant for a merchant mariner endorsement.
Rules of the Road is Week A of the School Schedule.This class repeats every four weeks.