Authority
The Mate Uninspected Fishing Vessel Oceans credential allows its holder to act as Mate on Uninspected Fishing Vessels, however propelled, documented to engage in the fishing industry.  The Mate Uninspected Fishing Vessel Near Coastal credentials allows the same authority on Near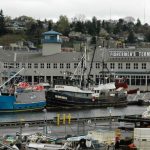 Coastal or Inland waters. The license is not required to operate wooden ships of primitive build, unrigged vessels and vessels of less than 200 GRT/500 GT. The credential is normally issued with tonnage endorsements of 500 or 1600, but if service has been on larger tonnage fishing vessels, the tonnage may be calculated as high as 5000 GRT. The authority of this credential is limited to Uninspected Fishing Vessels.
Requirements
NMC Checklist for Mate Uninspected Fishing Vessels Near Coastal
CFR Reference: 46 CFR 11.462
RECENCY: 90 days in the past 3 years on vessels of appropriate tonnage
Examination
DECK EXAMINATION GUIDE: ESS 1-29. At this link, you will find two Deck Examination Guides.  If your qualifying service for the license began before March 24, 2014, you may opt to be examined under the procedures of the old Deck Examination Guide.  The old guide's examinations are significantly less difficult in most cases than the new guide's.
To Apply for the Credential
Credential Assistance
If you need help determining your eligibility or completing your application, please email us at Credential Assistance.
Classes
Mariners preparing for these credential examinations can begin on almost any Monday.  Course of study lasts from 4 to 6 weeks and is a combination of lectures and tutorials.  The tuition is good for one year.