The Mate (Pilot) Towing credential allows its holder to work as mate onboard a towing vessel operating on the waters for which the endorsement is issued (Oceans, Near Coastal, Great Lakes & Inland, Western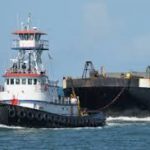 Rivers). In addition to the National credential, however, mariners operating on (1) an ocean voyage beyond near coastal waters, (2) an international voyage, or (3) a towing vessel of 200 GRT or more on a domestic near coastal voyage must hold the appropriate STCW endorsement.
Requirements
NMC Checklist for Mate Towing
CFR Reference: 46 CFR 11.465
RECENCY: 90 days in the past 3 years on vessels of appropriate tonnage
Examination
DECK EXAMINATION GUIDE: ESS 5-1. At this link, you will find two Deck Examination Guides.  If your qualifying service for the license began before March 24, 2014, you may opt to be examined under the procedures of the old Deck Examination Guide.  The old guide's examinations are significantly less difficult in most cases than the new guide's. Note: If a mariner holds an Apprentice Mate Towing, he or she can by service alone raise-in-grade to Mate Towing and Master Towing on the same route.  No examination required.  If a mariner holds a Master or Mate Towing Inland and wishes to extend its scope to Near Coastal and Ocean, an examination on the new route will be required.
To Apply for the Credential
Credential Assistance
If you need help determining your eligibility or completing your application, please email us at Credential Assistance.