Authority
The First Assistant Engineer National credential allows the holder to serve as First Assistant Engineer on vessels of any tonnage, any horsepower and on any waters (not subject to STCW). Note the STCW uses the term "Second Engineer" for what we call "First Engineer."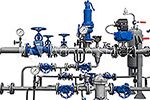 Requirements
NMC Checklist for First Assistant Engineer Steam/Motor/Gas TurbineCFR Reference: 46 CFR 11.512
RECENCY: 90 days in the past 3 years on vessels of appropriate tonnage
Examination
DECK AND ENGINE EXAMINATION GUIDE: ESS 1-10, 1-11, 1-12, 1-13. At this link, you will find two Deck & Engine Examination Guide.  If your qualifying service for the license began before March 24, 2014, you may opt to be examined under the procedures of the old Deck Examination Guide.
To Apply for the Credential
 Credential Assistance
If you need help determining your eligibility or completing your application, please email us at Credential Assistance.